National Engineer's Week: February 19 - 25, 2017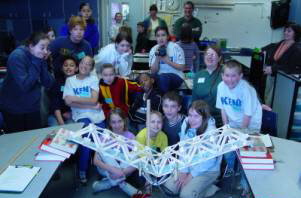 Bridge over Troubled Waters; 2002 - 2009
Popsicle Stick Bridge Breaking Winning Bridge (My Wife's Team)
As a part of National Engineer's Week I work with a few friends and community members to teach At-Risk Kids from a local Elementary School about engineering – about believing in yourself and that becoming an engineer is a possible goal for anyone who decides to apply themselves. Program consists of a site visit to the Riverbend Golf Course Bridge, (8) sessions of helping (5) teams build a model bridge from Popsicle sticks, and load testing to failure. Project culminates in a field trip to UW Engineer's Day.
March 9, 2009
Our Bridge Competition is complete and the 1st Place Winner is Team 5! I will post pictures and statistics after our awards Picnic. We were assisted this year by Dave Hobbs and Craig Keller of Taylor Industries. Hobbs, President of the Kent Kiwanis Club, will barbeque lunch for us. Unfortunately our field trip to UW has been cancelled because UW cancelled the Engineer's Day event. I hope it returns in 2010.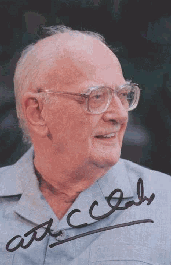 Author Arthur C. Clarke
On 19 March 2008, one of the brightest minds of our generation passed away. I only knew him from his Work, which has given me great inspiration in my Life's Work. He will be missed and he will be remembered.
Want to know more?

http://www.clarkefoundation.org/
One of his novels that has inspired me is "Rendezvous with Rama." The movie is on hold, again, but I happened to find a short student film directed and animated by Aaron Ross, Tisch School of the Arts, NYU in 2001. I think this film shows the fundamental idea of the story.
Headlines
Puzzle
Name this famous engineer.
Clue He made measurements and computations that were significantly more accurate than those made by Eratosthenes.