Back to New Buildings
Public Facility Projects
Service Club Ballfields, Kent, WA, 2006 Structural design for a (1) story restroom and concession facility of approximately 4,000 ft2 consisting of timber framing for roof, masonry walls, and a conventional continuous concrete footing. An open Canopy Roof extended 26' in height and projected 18' beyond either side of the main building. The canopy required special Finite Element Analysis of Wind forces using StaadPRO and special anchorage to support lateral movement under Wind and Seismic forces.
Kent Fenwick Park Restroom Building, Kent, WA, 2004 New (1) story 1,200 ft2 Building for Restrooms with 9' high masonry walls and an elevated CIP concrete slab for a planted garden roof with a clear span of 16'. A section of the building had 18' high masonry walls for equipment storage. Architectural Concept and Owner's requirement for Equipment Storage were achieved in Seismic Design Category D using a Horizontal Transfer Girder.
Typical Public Facility Plans and Details
The Plans and Details shown below were created using AutoCAD 2000.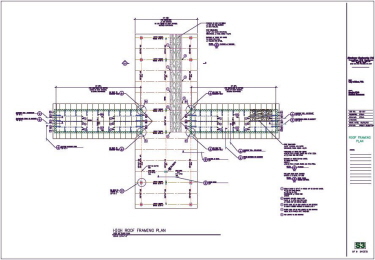 Framing Plan Sheet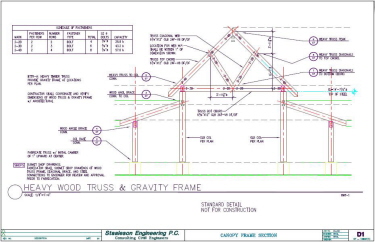 Structural Section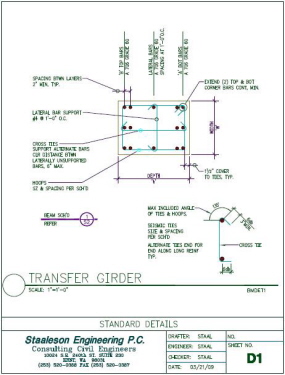 Structural Detail