Pre-purchase Inspections
|
Structural Condition Assessment
|
Seismic Vulnerability Assessment
Back to Services
Investigations
Experience
We have experience with several types of investigations, working with real estate agents, Insurance Companies, and developers, and serving as an expert witness.
Investigation Types
Residential Pre-purchase Inspections - A preliminary visual examination made at the request of Buyer or Seller or the recommendation of the home inspector to determine if the apparent structural damage observed is significant and what an estimate of repair costs are.
Structural Condition Assessment - A visual examination made to assess the condition of the structure: help the Owner plan a Renovation, Addition, or Repair; evaluate Construction Defects; investigation of a Structural Failure, such as a roof collapse from excess snow load or tree impact.
Post Earthquake Damage Assessment - We are certified under ATC 20 to assist the Building Department after an earthquake.
A Recent Project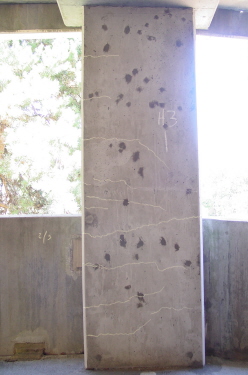 Seismic Vulnerability Assessment of Parking Garage, Kent, WA
Vissual examination of crack patterns in existing concrete column which was damaged by seismic shaking in order to assess probable displacements during the earthquake and determine failure modes for the structure.