Method of Practice
Staaleson Engineering, P.C. is a small Civil Engineering Firm that provides structural building designs, engineering consulting, and forensic investigations to clients in the private and public sector.
We take our responsibilities to public safety and to our Clients' needs seriously and we expect our work to provide value to the Project and attain the highest engineering standards of practice. We abide by the Rules of Professional Conduct as stated in WAC 196-27 and in the American Society of Civil Engineers Charter. We maintain $1,000,000 in Professional Liability Insurance and practice Loss Prevention.
We are committed to providing you with the highest quality technical information and friendly personalized service. We value hard work, innovation, direct speaking, and a job well done.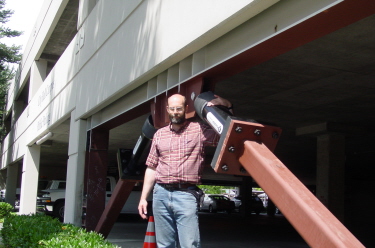 Darrell Staaleson, P.E., S.E
Our Chief Engineer, Darrell Staaleson, P.E., S.E. has 20 years of experience in the design and engineering of new i building structures; renovations, additions, seismic retrofits, design of foundations, and structural investigations; and is directly responsible for direction and decisions made on all projects.
Darrell uses his knowledge and experience to work to provide our Clients with:
Innovative structural design solutions that implement the Architectural Concept and Vision.
Efficient, cost-effective and buildable framing schemes and connections.
Structural Systems and connections that have a demonstrated performance history under seismic, wind, and snow loads.
Schematic phase design alternatives that can result in savings in construction costs and improvements to function.
Structural designs optimized to your needs that balance the three competing requirements of:

Structural strength, ductility, and performance;
Construction costs and constructability;
Architectural Concept, vision and use.
Software Techonology
We issue structural drawings for coordination, approval, and fieldwork in AutoCAD DWF format. This allows our Clients to have access to their drawings quickly. The Viewer is Free from AutoDesk.

Adobe Reader
If you are unable to view links on our website with (.pdf) in the name, Adobe Reader is available to download for free from Adobe's website.

SAP 2000 Non-linear
Useful for computer modeling and design of reinforced concrete and steel structures and design of systems that use fluid viscous dampers.
SAP 2000 Example
In a Recent Design of a Seismic Retrofit we used Fluid Viscous Dampers to reduce the response of an existing concrete parking structure to seismic forces. The computer model shows the seismic response under the El Centro Earthquake of 1964 for (1) bay of the parking structure that is retrofit with Fluid Viscous Dampers.