Back to Renovations
Seismic Strengthening Projects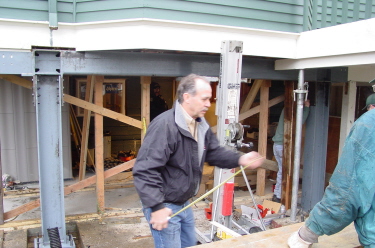 Residence Seismic Renovation, Seattle, WA, 2002
Structural investigation of existing (2) story residence with laterally unsupported (seismically unsafe) cantilevered section. Seismic vulnerability assessment made using FEMA 356. Designed retrofit and strengthening to provide vertical and lateral support at existing cantilevered section with a new steel special moment frame.
Pictured: George Gundlach, Contractor, Julius Stewart Construction. Mr. Gunlach worked in conjunction with Staaleson Engineering, P.C.
Parking Garage Seismic Retrofit, Kent, WA, 2005
Retrofit Steel Chevron Braced Frame with Fluid Viscous Dampers. Retrofit concept was to dampen the response of the structure to future Maximum Credible Earthquake so that forces will not overstress the existing members.